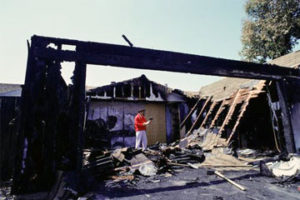 Rockwall is no stranger to severe weather and if home is damaged or destroyed you will need to make a claim on your homeowners insurance policy. Having your home damaged can be stressful, but making a claim on your policy can often be even more painful and frustrating.
Making a claim on your homeowners insurance doesn't have to be complicated or confusing, if you are properly prepared. Following a few simple steps will help ensure that your claim is quickly and fairly processed. Of course, if you are one of clients please call us and we'll help you through every step of the claims process.
Here are a few do's and don'ts when it comes to making a claim on your policy:
Do's
Contact Your Insurer Immediately: Once you have determined that everyone is safe, secure your home and call your insurance company immediately. Alerting your insurance company to the situation allows them to dispatch an adjuster to your home as soon as possible to assess the damage.
While it varies by insurance company, some insurers only allow a short window to make a claim after a major disaster. This means that if you wait too long it can result in a denied claim, leaving you responsible for damages.
Always make sure that you contact your insurance company to file a claim before you hire a contractor to start any repairs. If work starts before you file a claim, you may end up paying the bills yourself.
Document the Damage
Always document the damage to your Rockwall home as soon as possible. Take photos and video as soon as it is safe and make sure you photograph the damage from a variety of different angles.
These photos and videos will help with the claim process and make sure you are fairly compensated for all of the damage that your house suffered. You should share these photos and videos with the adjuster as soon as possible.
Secure the House: Once the danger has passed and it has been deemed safe to go back in to the house, secure the home to prevent further damage. As an example, if your roof has been damaged or has a hole in it, cover the hole with a tarp so that additional water damage doesn't occur. While securing the home is a necessity, never put yourself in danger by climbing up on an unstable roof.
The same is true for broken windows, doors, and pipes. Secure or temporary repair any damage that could cause further damage to your home. This is necessary because your insurer will expect you to do whatever necessary to prevent further damage to the home that goes beyond the original storm damage. Failing to do this may result in a denied claim or you being responsible for the cost of the additional damage.
Call the Police: If the claim is related to crime, you will need to call the police. If you have been burglarized or vandalized, call the police as you will need a police report for the claim. Your insurance adjuster will most likely require a report from the police regarding the damage or stolen items.
Always Keep Your Receipts: Keep receipts for all repairs and any other expenses that have to do with your claim. This includes receipts for food, hotels and other necessities if your house is too damaged to live in while the repairs or rebuilding is taking place.
Always Keep a Current Home Inventory
You should have a current home inventory that you update on a regular basis. This will help provide documentation to the insurance company about the property that you have lost as well as the cost and age of your possessions. There are numerous apps that make the process of putting together an inventory quick and easy. Store the inventory offsite or in the cloud.
Take photos and videos of your possessions and log serial numbers as well as the price you paid for each item. If you have receipts, keep them or take a photo of it to keep in your inventory.
Don'ts
Save Your Insurance: Anytime you make a claim, your rates will usually go up so it's never a good idea to file small claims, save your insurance for major damage. If you continually make small claims your rates will soar and it's possible you policy could be cancelled.
Don't Sign Over Your Benefits: Less than honest contractors, especially roofers many ask you to sign a form called an Assignment of Benefits (AOB). Basically, this form assigns control of your claim over to them, which also includes the payment process. Shady contractors may try to collect payment on the claim before doing the work, or do shoddy work and collect payment.
This type of fraud has been a major issue with roofing claims in Florida and Texas is also seeing this type of activity.
Don't Give Up
In the event that your insurance company denies your claim, don't give up. They are legally required to provide an explanation from your adjuster and it is possible to appeal the decision if you think they are wrong. Be prepared to provide a written explanation and as much documentation as possible. If your appeal is denied you can contact the Insurance Department in Texas to file a complaint. Your final option is to hire a lawyer and file a lawsuit.